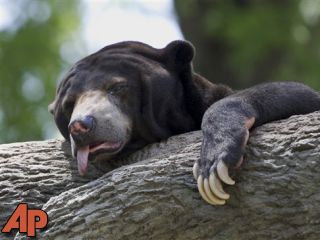 A sun bear reacts to triple-digit temperatures at the Henry Doorly Zoo in Omaha, NE, Friday. The temperature reached 103 degrees. (AP Photo/Nati Harnik)
By BRETT ZONGKER and RON TODT
Associated Press
PHILADELPHIA (AP) – Americans dipped into the water, went to the movies and rode the subway just to be in air conditioning Saturday for relief from unrelenting heat that has killed 30 people across half the country.
The heat sent temperatures soaring over 100 degrees in several cities, including a record 105 in Washington, St. Louis (106), and Indianapolis (104), buckled highways and derailed a Washington-area train even as another round of summer storms threatened.
If people ventured outside to do anything, they did it early. But even then, the heat was stifling.
"It was baking on the 18th green," said golfer Zeb Rogerson, who teed off at 6 a.m. at an Alexandria, Va., golf course but was sweltering by the end of his round.
The heat sent temperatures soaring in more than 20 states to 105 in Louisville, Ky., 101 in Philadelphia, and 95 in New York; besides Washington, a record of 104 was set in Sioux Falls, S.D.,
At least 30 deaths were blamed on the heat, including nine in Maryland and 10 in Chicago, mostly among the elderly. Three elderly people found dead in their houses in Ohio had heart disease, but died of high temperatures in homes lacking power because of recent outages, officials said. Heat was also cited as a factor in three deaths in Wisconsin, two in Tennessee and three in Pennsylvania.
Officials said the heat caused highways to buckle in Illinois and Wisconsin. In Maryland, investigators said heat likely caused rails to kink and led a green line train to partially derail in Prince George's County, Md., on Friday afternoon. No one was injured, and 55 passengers were safely evacuated.
Thousands of mid-Atlantic residents remained without power more than a week after deadly summer storms and extreme heat struck the area, including 120,000 in West Virginia and some 37,000 in the Washington, D.C., suburbs. In the Washington area, Pepco asked customers to conserve power, saying the heat was stressing the system.
"This is becoming a black swan of heat waves, in the sense that it's such a long heat wave, such a severe heat wave and encompassing such a large area," said Chris Vaccaro, spokesman for the National Oceanic and Atmospheric Administration.
At the Smithsonian's National Museum of Natural History, Abraham Lewis and his wife, Dzifa Fianoo of Lorton, Va., brought their 8-week-old son out for a walk in the 100-degree heat.
"I really don't want to be out, but she's a new mother and was feeling cooped up," Lewis said. "Do you see how hot it is?" he said, wiping beads of sweat from his forehead more than once.
The couple's home in northern Virginia lost power for two days last week after a severe wind storm swept through. Fianoo had to haul the family's food to a cousin's house to prevent it from spoiling, then took it home again.
Micah Straight, 36, brought his three daughters to dance in jets of water spurting from a "sprayground" near Philadelphia's Logan Square fountain to cool off.
"We got here early, because I don't think we'll be out this afternoon – we'll be in the air conditioning," he said. "So I wanted to get them out, get some sunshine, get tired."
In South Bend, Ind., serious kayakers Saturday took to the East Race Waterway, a 1,900-foot long manmade whitewater course near downtown.
"A lot of times I'll roll over just to cool off," said Robert Henry of Carmel, just north of Indianapolis. "The biggest challenge is walking coming back up carrying a kayak three-eighths of a mile in this heat."
In Manhattan, customers who stepped in to see "Jiro Dreams of Sushi" at an IFC movie theater were there for more than entertainment.
"Of course we came to cool off!" said John Villanova, a writer who was on his second sweaty T-shirt of the day – expecting to change again by evening.
He said that earlier, he rode a Manhattan subway back and forth for a half an hour, with no destination in mind, "because it really keeps you cool."
In cities around the Midwest and Mid-Atlantic region, people struggled to find ways to cope with the heat, but at least one such effort ended in tragedy.
In Aurora, Ill., Gene Autry Pryor, 52, had been drinking with three adult friends near Veterans Memorial Island and jumped into the Fox River to cool off, police said. The man's friends lost sight of him after a few minutes and then spotted him floating face down and pulled him to shore. Pryor died Friday evening.
One man figured out a way to beat the heat: stay in the car. Roger Sinclair of Batavia, Ill., was headed home Saturday from Detroit, where he'd spent a few days visiting an old friend and catching Friday night's Tigers game. The Tigers won 4-2, but the conditions were less than ideal.
"It was 97 at the first pitch and still in the 80s at the time of the last out," he said. "It was tough. There was no breeze."
Sinclair said he had been spending hours in his air-conditioned car to stay out the worst of the heat.
In Chicago, street magician Jeremy Pitt-Payne said he has been working throughout the three-day stretch of triple-digit temperatures, but acknowledged that he might doff the Union Jack leather vest by the end of the day, even though it's part of his British magician character along with the black top hat.
But he had a secret for beating the heat – he starts his shows at 2 p.m. "when the Trump Tower is gracious enough to block out the sun" along his stretch of sidewalk.
At New York City's Penn Station, the air conditioning was falling short of full capacity. Amtrak officials have said for weeks that they've been trying to adjust it. The doors were left wide open at a half dozen locations around the two-block-wide underground station.
"It's so hot I feel like I want to faint," said Betty De la Rosa, 19, of the Bronx, who was working at a station doughnut shop.
The heat didn't stop Taylor Heaton of Houston from joining friends in Washington for her bachelorette party. They spent three hours walking the National Mall, seeing the Washington Monument and other tourist sites. They cooled off for a bit at the Lincoln Memorial, but kept walking until they reached the Smithsonian museum.
How hot was it by Saturday afternoon?
"Hotter than the gates of Hades," said Cathy Corey, of Bethesda, Md.
The bachelorette crew had a cocktail reservation for Saturday night at an outdoor deck at a hotel that overlooked the White House.
"How else are we going to see Barack (Obama)?" said Heaton. "It's really not too bad in the shade."
___
Zongker reported from Washington. Associated Press writers Verena Dobnik in New York, Ed Donahue in Alexandria, Va., Steve Szkotak in Richmond, Va., Mike Householder in Detroit, Carla K. Johnson in Chicago and Tom Coyne in South Bend, Ind. contributed to this report
Copyright 2012 The Associated Press. All rights reserved. This material may not be published, broadcast, rewritten or redistributed.